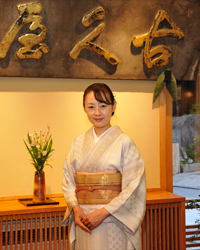 Kokuya is traditional Japanese style hotel (ryokan), located in old Japanese town surrounded by beautiful mountains. Located in the heart of Shibu Onsen Spa street. Kokuya Hotel has kept a Japanese traditional-style inn and pure hot spring water for 400 years. Ichizaemon is a name of the first master of Kokuya Hotel; the present master is the 16th generation. We are the only hotel in this area with six different 100% natural hot springs, 8baths and 10 rooms with open air bath. Our hot springs are rich in health-giving minerals, which benefit your muscles, joints, and skin.
The traditional architecture, the picturesque, very narrow Shibu Onsen spa street, local people in kimono or guests strolling down the street in yukata (light robes) helps create a special, relaxing atmosphere. Step back in Japanese history and enjoy this memorable experience! We hope you will have a pleasant, relaxing stay in Kokuya hotel.

only one place in the World where monkeys take hot bath !!!
It is located in mountain area just 10min by car from Kokuya hotel. It is harsh environment where snow covers the ground during the winter season.
People named the area Jigokudani (Hell's Valley) because the steep cliffs and hot water, bursting from the earth's surface, resembled hell. However, this place is paradise for monkeys, 200 of monkeys inhabit the area at present.
>>Snow Monkey park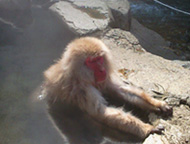 We make Onsen-tamago at the entrance door. The hot spring, which was discovered as a first in Kokuya hotel about 400 years ago rise from 5m down of the hotel building. This hot spring is in the best condition for Onsen-tamago egg.
52-70C Effective - Injury, chronic eczema, neuralgia etc…
80% of proceeds are donated to welfare in Yamanouchi-town.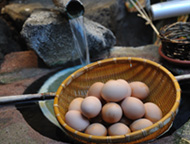 What's New